At golfclub-technology.com we use the full line of ACCRA graphite shafts, the TRUE TEMPER Project X series, and the UST Mamiya Proforce V2,  in our CUSTOM FIT DRIVERS.
ACCRA

shafts are synonymous with quality, emotion, ultimate performance and feel.
ACCRA i SERIES WOOD SHAFTS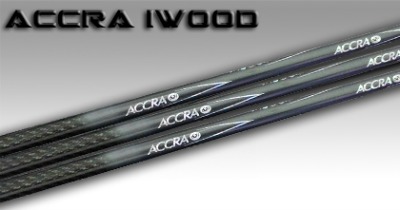 Since 2004, ACCRA Golf has been positioned as the worldwide leader in the high performance golf shaft upgrade and replacement market, building long term business relationships with more than 350 professional club fitters and studios in countries all around the world.  This gives the professional club fitter the unique ability to provide golfers with the perfect fitting experience. ACCRA fitters are selected because they are the very best in each specific market and represent ACCRA with professionalism and integrity.
The history of ACCRA Premium Golf Shafts has accompanied that of the most innovative sector of the golf industry. ACCRA Golf shaft sales has experienced significant growth in each of the past seven years, becoming one of the most successful launches of a new shaft brand ever.
ACCRA Golf is a division of Premium Golf Management Co. (PGMC) and is involved in the design, development, production and marketing of premium golf shafts destined specifically for the aftermarket segment.
Drawing on its technological expertise, PGMC has consolidated working relationships with the world's leading professional Club Fitters; partnerships have translated into ACCRA becoming a leader in providing the golfing public with the best custom fit shafts on the market

ACCRA iSeries Wood shafts
The iSeries wood shaft incorporates a combination of low torque and responsive tip section for a great mix of spin control and high launch. ACCRA engineers have also strengthened the butt section of the shaft to resist ovaling.  
At the butt, ACCRA has added a carbon weave material, which not only adds strength to the butt section of the shaft but also moves the CG (center of gravity) slightly more towards the butt section of the shaft. From a swing weight perspective, this counter balancing effectively makes the iSeries wood shaft an optimal choice for the new heavier driver heads. It also promotes an easier release and a draw bias, perfect for the great majority of golfers.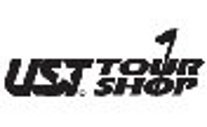 Proforce V2 Woods
The flagship UST Marmya Proforce brand is a proven winner on the PGA Tour and remains one of the most successful shaft brands in golf. When the first, eye-catching Proforce Series shaft burst on the scene, winning the 1999 Masters, its revolutionary 'Proforce Tip Technology' shook up the golf industry.
 
The second generation, UST Proforce V2, continues to be a "go-to" shaft on the professional tours and in the replacement marketplace today. The Proforce V2 shaft series masterfully balances torque, weight, spin and launch angle to create the most extraordinary power-to-torque ratios in golf


FOR THE PLAYER SEEKING A MEDIUM BALL FLIGHT, INCREASED BALL SPEED AND SUPERIOR CONTROL
The UST Proforce V2 is designed for players seeking a flatter, more penetrating ball flight. The firm tip section produces a medium launch condition and increased ball speed.
The UST Proforce V2 uses the most superior materials and design to produce a very stable, consistent golf shaft. The super low-torque provides maximum control for today's larger club heads.
The UST Proforce V2 is available in 56 to 77 gram shaft models, from Light Flex to Extra Stiff Flex and .335 & .350 Tips. UST MSRP = $125.00

True Temper Project X Driver Shafts

The name that revolutionized steel shafts and won major tournaments around the world just got better. Introducing the new Project X In-Line driver shaft, the Next Generation in sophisticated Project X engineering.
Driver

The new Project X driver shaft has a similar bend profile to Project X iron shafts. The driver shaft's firm tip design yields a penetrating launch and low spin while its low torque and reinforced cross section provide the most stable shaft performance on tour.

| | | |
| --- | --- | --- |
| FREQUENCY | WEIGHT | TIP |
| 7.0 | 69 | STIFF |
| 6.5 | 69 | STIFF |
| 6.0 | 66 | STIFF-MID |
| 5.5 | 62 | MID |
| 5.0 | 60 | MID |
Project X Graphite Technology

Zonal Design Theory
Project X driver shafts are engineered using True Temper's proprietary Zonal Design Theory (ZDT) which divides the shaft into three zones-butt, mid and tip sections. Each zone is optimized for performance using a specific design technology.

Butt section:
Hex-Axial Reinforcement Technology provides unmatched cross sectional stability minimizing energy lost to ovalization.

Mid section:
Constant Taper Design eliminates localized bending and creates even loading and unloading for maximum energy transfer.

Tip section:
Elongated Double Wrapped 55 MSI Reinforcement for a firmer tip section, which minimizes droop and lag and reduces back spin

Tour Launch and Spin
Like the Project X iron shafts, Project X driver shafts provide penetrating launch conditions with ultra low spin. The stiff butt, soft mid-section combine with the double reinforced tip section to maintain a strong angle of attack and greatly reduce spin, even in higher loft drivers.


True Temper's HZDRUS line of Project X driver shafts have taken the Tour by storm. These hand made shafts are revolutionary and are available thru our special order.

---
Return to 919THi Fairway Woods