ergowoodstock
WHAT IS ERGONOMICS ?
ergowoodstock applies theory, principles, data, methods and analysis to design, in order to optimize human well-being and overall system performance.
Ergonomics (or human factors) is the scientific discipline concerned with interactions among humans and other elements of a system (e.g. the tools, equipment, products, tasks, organization, technology, and environment).

You may ask…. Why is ergonomics included in a golf website?
Well, I have discovered the world of ergonomics because of not only my advancing age, but when I herniated all of my five lower discs, I couldn't not only golf, but I couldn't sit at my computer for any length of time, couldn't sit in my beloved lazy boy to watch golf, discovered the wonderful world of inversion table therapy, and generally found out that I had been sitting and standing all wrong my entire life.
So now we are ergowoodstock, in the business of selling and installing ergonomic products. We have found that golfers are the best candidates for ergonomic seating solutions, whether for office, personal, medical, or sports because they have generally destroyed their backs and core over the years. 
CLICK ON THE IMAGES BELOW FOR DETAILED PRODUCT DESCRIPTIONS

---
---
ergowoodstock's
PRODUCT CATEGORIES
HEIGHT ADJUSTABLE TABLES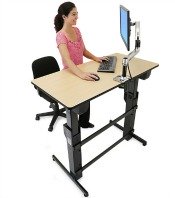 WorkFit-D, Sit-Stand Desk (Birch and Walnut Tops). This adjustable standing desk solution moves from a sitting to a standing position whenever you want.
---
OFFICE CHAIRS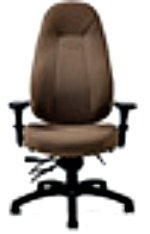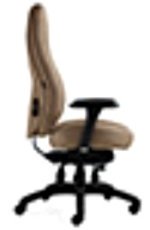 There are many types of ergonomic chairs available for use in the office. No one type of office chair is necessarily the best, but there are some things that are very important to look for in a good ergonomic office chair.
---
MONITOR ARMS
Monitor arms allow you to fully adjust the ergonomics of your workstation, raising and pivoting your monitor to achieve sight lines that reduce strain on the back and neck.
---
WORKSTATIONS
Our ergonomic workstations put monitor supports, drives, and ports in easy ergonomic reach - art and technology that meet your needs!
---
KEYBOARD TRAY SYSTEMS
Keyboards, pointing devices, or working surfaces that are too high or too low can lead to awkward wrist, arm, and shoulder postures. Ergonomic keyboard trays and keyboard arms combos provide precision keyboard and mouse placement for single or multi-user workstations.
---
ERGO MICE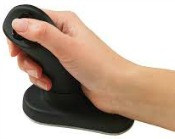 This ergonomic mouse is clinically proven to alleviate pain and discomfort of repetitive stress injuries in the hand, wrist, or arm associated with the use of traditional mice, which can pronate the forearm and wrist and typically presses the wrist and carpal tunnel area against the desk.
---
WORKSPACE PLANNER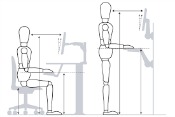 This interactive tool finds the right ergonomic height for components of a computer workstation.Remember! Even if your workspace is set up properly you can still get muscle fatigue from maintaining the same posture for too long—adjust the position of your monitor, keyboard and chair as your posture changes.
---
ZERO-GRAVITY CHAIRS
Reclining lounger positions you so there is no pressure on your spine, your lungs have room to breathe and your legs are raised to lower your blood pressure. Plus this chair is also a handsome piece of furniture.
---
Human Touch ZeroG™ 4.0

Immersion Seating
In creating the ZeroG® 4.0 massage chair, Human Touch® has taken the stress out of stress relief. Take a seat, recline to zero-gravity, and simply point to where it hurts using the revolutionary BodyMap PRO™ Immersion Director remote. The Smart 3D massage engine simulates the expert movements of the chiropractors who helped create them, leaving you relaxed, rejuvenated and ready to live life to its fullest. Immerse yourself in wellness.
Human Touch AcuTouch®

HT-7450

Zero-Gravity Massage Chair
The Human Touch AcuTouch® HT-7450 Zero-Gravity Massage Chair offers a combination of our patented Human Touch Robotic Massage Technology® with zero-gravity engineering design and a classy, refined look, including a choice of black or espresso top-grain leather/leather-match upholstery.
Let the Human Touch AcuTouch® HT-7450 Zero-Gravity Massage Chair embrace you, so you feel like you're floating in an ocean of comfort. This stylish massage chair releases you from the clutches of gravity and adjusts to your body to fit you like a glove. The patented Human Touch Technology® replicates the hands of professional massage therapists to give you a heavenly massage experience.
INVERSION TABLES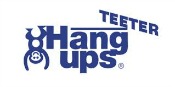 We stock the Teeter Hang Ups Contour L5 Ltd. Inversion Table
Call for Current Specials!


Inversion tables offer several health benefits by suspending the user at an inverted angle, which can be adjusted according to personal preference. The use of Inversion Tables has long been a proven therapy for back pain. When inverting, the force of gravity counteracts compressions in the joints, mainly concentrating on the back, neck and hips.
---
---
 Feel free to CALL: 226-785-1320 or email us at rmckinney@rogers.com for further info. and YOUR SPECIAL PRICING