771CSI IRONS 
CARBON STEEL EQUALS HIGH COR
or
989CLA IRONS
CUSTOM LENGTH ASSEMBLY
For the ultimate game-improvement forged iron, you need to discover Wishon's 771CSI Irons. These irons are the ultimate in high performance, high ball speed, supreme off-center hit forgiveness in any iron design today.
The 989CLA irons are designed to allow a wider range of custom length fittings.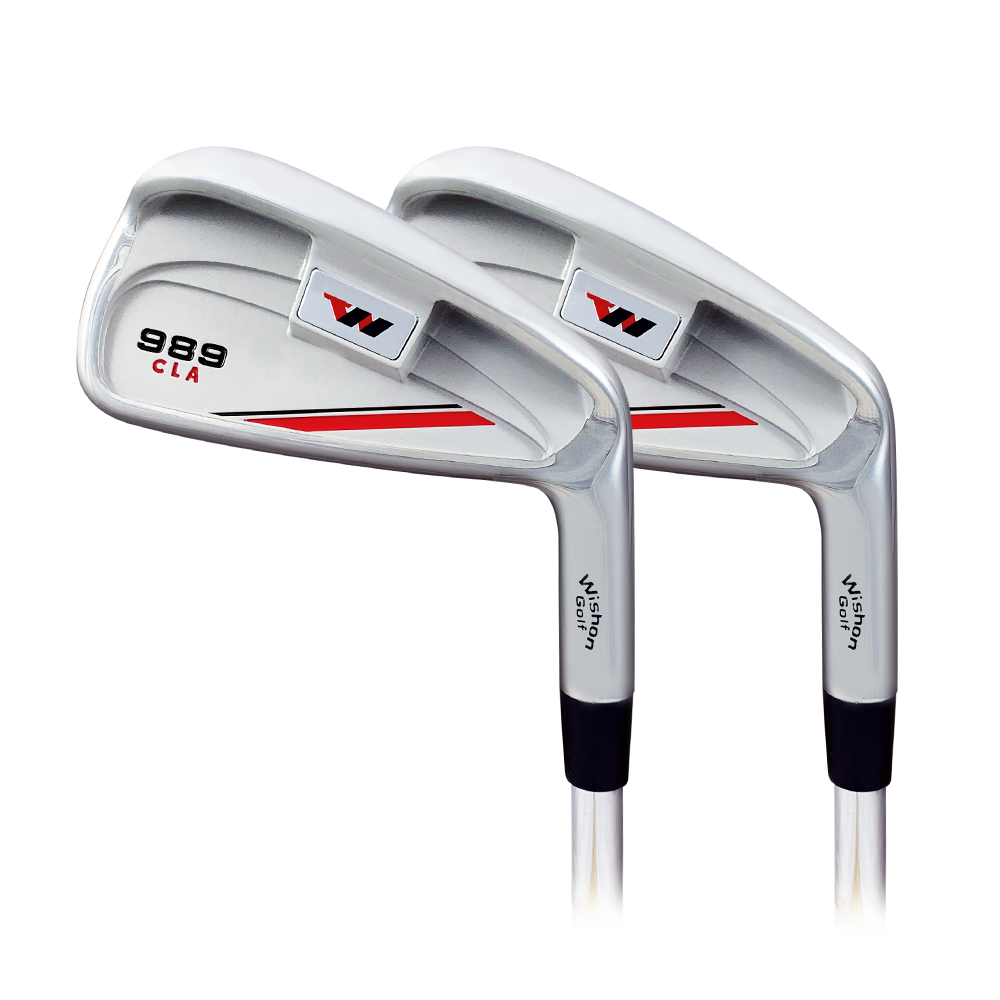 WISHON 771CSI Irons
Thin Face, High COR, Variable Thickness Face in a Carbon Steel Body to Offer a Wide Range in Lie and Loft Bending for Custom Fitting
High 0.830 COR face design offers the most distance for all golfers.
CNC Machined Variable Thickness Face delivers superb off-center hit forgiveness.
Head body material is 1020C carbon steel to allow club makers to perform a wide range in loft and lie bending – previously all high COR thin face designs had to be mounted in a 17-4 stainless body, which limited loft and lie fitting options.
Conventional Head Size and Shape means a wider range of golfers will like the 771CSI design.
Fully Radiused Sole Design with Rounded Leading Edge offers golfers the best playability from all types of grass as well as from the rough.
Available in RH & LH in #4, 5, 6, 7, 8, 9, PW, (AW RH only) in bright satin NiCr electroplated finish
WISHON 989CLA IRONS
CUSTOM LENGTH ASSEMBLY:
DESIGNED TO ALLOW A WIDER RANGE OF CUSTOM LENGTH FITTING CAPABILITY FOR CLUBMAKERS
Features:
989CLA means lighter specification head weight combined with new rear cavity twin weight bores to achieve normal swingweight/MOI assembly at custom lengths from 1 inch under to 1 inch over standard lengths (standard lengths based on 38" #5 iron with half-inch increments between each numbered iron)
Progressive blade height from semi-shallow in the #4, 5 to taller in the wedges keeps the CG lower in the low loft heads while raising the CG in the high loft irons to enable higher flight with the lower lofts and no ballooning flight with the high loft irons

Modern loft design to compare with other modern strong loft iron designsDeep undercut back cavity design to increase MOI and off-center hit performance with low 2mm offset on each iron in the set

Outstanding sole design with beveled leading and trailing edge design, ideal for all types of grass and turf conditions 

Available in RH in #4, 5, 6, 7, 8, 9, PW and AW, in bright mirror polish finish with silicon bead blast highlights and medallion cover for rear twin weight bores
---

As a Certified Advanced Rifle Center since 2004-golfclub-technology.com has been fitting these quality, Wishon 771CSI's with the best shaft in the golf industry. The True Temper Rifle Blank system, their Rifle Flighted Sets, and Project X Sets, allows us to fit every golfer with the same experience that the PGA Pros enjoy. The 989CLA irons are best assembled with ACCRA graphite shafts. 




GRAPHITE IN YOUR 771CSI & 989 Irons -"ACCRA"
Return To Wishon Models

Return to Home Page
This site uses cookies. Some are required for the site to run, others to enhance your experience. And some are for ads personalization.