WISHON EQ1-NX SINGLE LENGTH HYBRIDS
Single Length Hybrids
The EQ1-NX Hybrids represent the most unique and versatile hybrid design ever created through a greatly expanded internal weight addition capability to allow custom assembly to match single length irons or to be played at conventional hybrid length.
Each EQ-1-NX hybrid head is produced with the ability to add up to a maximum of 30g to achieve normal swing weights.
Natural head weight specification of each EQ1-NX hybrid head also allows assembly to conventional hybrid lengths of #4(38"-39"), #5(37.5"-38.5"), #6(37"-38"), as well as single length hybrids.  Any length in between 7-iron and conventional hybrid lengths is also capable for an even wider range of fitting options
High strength steel, thin variable thickness face, high COR design.  0.335" bore to accept any S2S Hybrid shaft.  
The four different weight bores allow for maintaining the best CG position low and center located, as well as to be able to increase the trajectory with the new twin rear sole weight bores 
Spec lie angle for each EQ1-NX hybrid is 63° to match the EQ1-NX single length irons.  EQ1-NX Hybrids are capable of being bent up to 3° to allow proper lie fitting when assembled to conventional hybrid lengths.
All EQ1-NX clubs, whether conventional or single length hybrids, are custom fitted for you regarding shaft length, shaft flex, swing weight, your choice of grip, EQ1-NX headcover, and custom bent for lies.
SINGLE LENGTH HYBRIDS


Available in #4(20*), #5(24*), #6(28*) in RH.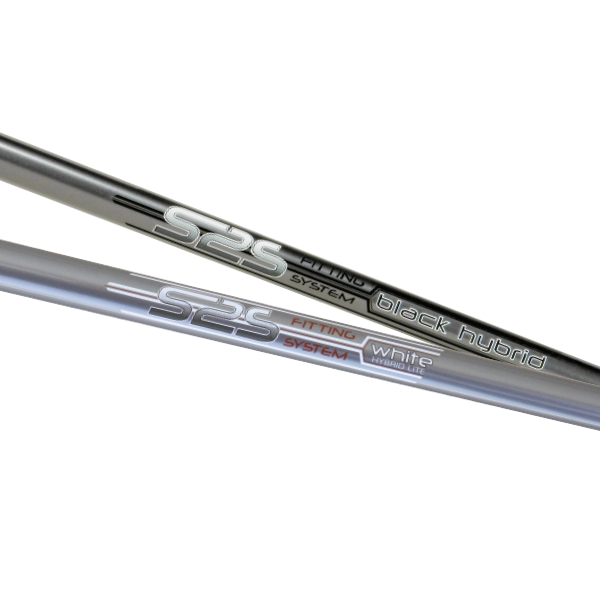 Wishon Golf pioneered the use of a smaller, 0.335″ tip construction to create hybrid shafts which offer as much as +4° higher launch angle over conventional 0.370″ hybrid shafts.
We use S2S White Shafts for most of our builds. (73-78gms.) A, R, S flexes.
S2S Black hybrid shaft is a heavier weight (95-100gms.) for players who prefer the weight of steel in their conventional irons.
S2S Black hybrid shaft design is created for golfers with an average to stronger transition, average to faster tempo, and a later to very late release.
S2S Black hybrid shafts are available in R and S flexes for all hybrid heads with a 0.335″ bore.
Tom Wishon Explains his use of .335 Shafts in his Hybrid Designs
I have never designed a hybrid that had any bore diameter other than 0.335″. This goes all the way back to the summer of 2002 when I was finishing up all the designs and products for our first year in operation in 2003. I had intended the first hybrid model to be 0.370 bore because I always felt hybrids should be thought of as irons to be built to the same length as the iron being replaced by the hybrid. So I designed my first hybrid shafts with a 0.370 tip to match the 0.370 bore of the hybrid.
Initial testing of this combination was a little less than desirable because shot heights were not as high as I had hoped from this combination. I had set the CG low and back in the head so that was not the issue. Then I had this idea that if I changed the shaft to have a smaller tip diameter it could help the shaft increase launch angle from the tip being more flexible. But to prevent that from making the shaft feel too limber I had to do a lot of work changing the middle of the shaft's stiffness to offset what the smaller tip was doing. Net result was very good as the testing with this new 0.335 tip design shaft was great with the hybrid head model. Hence, since then I have always used a 0.335 tip design for the shafts and to go with that, a 0.335 bore in the hybrid heads. In the process I also learned a lot about how to design the butt and middle section of hybrid shafts to create the right stiffness feel but still with having the tip section do its job to increase shot height.
Go to Wishon Video of EQ1NX Hybrids
This site uses cookies. Some are required for the site to run, others to enhance your experience. And some are for ads personalization.