IRON EVOLUTION CHOOSE YOUR HEAD
Iron evolution was a slow and steady process until Ping came along and changed everything. If you have been playing golf for many years, or are just taking up the game, you have seen iron evolution from a slab of iron to to-days ultra game improvement heads.
In my over ten years of custom fitting golf clubs, it is always been hard to get the golfer to pick the right iron head most suited to his playing ability. Not only do they want to play what they see on TV, but nine times out of ten, the golfers have no idea of what the difference is between all the models out there. When our business went exclusively to the Tom Wishon line of heads, in which he has models for every level of golfer, most of our problems were solved. However, an interesting classification system, which has attracted some positive and negative reaction from the golf community is the Maltby Playability Factor (or MPF).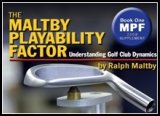 This is a rating system developed by renowned golf club designer Ralph Maltby, and first published in 2002, that attempts to rank golf clubs on the basis of how easy or difficult they are to play for golfers of different skill levels. We all know, for example, that a cavity back iron with significant perimeter weighting will be easier for most golfers to use than a muscleback blade. The Maltby Playability Factor charts golf clubs along that curve, from easiest to master to most difficult to master. He has studied the iron evolution like no other.
The Maltby Playability Factor fits clubs into six different categories, ranging from most-forgiving to least-forgiving:
ULTRA GAME IMPROVEMENT: (851+) All players benefit. The most forgiving irons, designed to compensate for swing deficiencies. Provide extremely solid feel and most consistent trajectory for all players.
SUPER GAME IMPROVEMENT: (701 - 850) All players benefit. Designs have a solid feel and help compensate for off-center hits, but are a bit harder to get the ball airborne than the Ultra-rated irons.
GAME IMPROVEMENT: (551 - 700) Most players benefit. Designs that help correct swing deficiencies, but to a lesser degree than Super- and Ultra-rated models. A decade ago, this was the most playability available.
CONVENTIONAL: (401 - 550) Best left to the better player. Irons may be traditional or "game improvement" in appearance, but will reward the miss-hit with a tough follow-up shot.
CLASSIC and PLAYER CLASSIC: (400 and below) For expert players with the ability to adapt their swing by feel to suit the club. An expert typically chooses an iron in this category based on appearance and feel. Most golfers are cautioned that these irons can be extremely sensitive and must be hit on their (small) sweet spots.
The Maltby Playability Factor is based on scientific data, not marketing hype. It is determined by a simple evaluation of the laws of physics and applied advanced mathematics to develop a formula that computes an index of clubhead playability. The formula evaluates five dimensional and mass properties of an iron head. There are more, but his study is quite good.
Vertical Center of Gravity, Horizontal Center of Gravity, Rearward Center of Gravity, Geometric Center of the Face, Moment of Inertia
The MPF is a controversial guideline and should only be used as a guide. We have had tremendous success fitting golfers with Tom Wishon heads, and the cardinal rule has always been----a golfer has to have an iron head that he absolutely loves to look at, especially at address.

Remember this...ALL golfers, of ALL abilities, of BOTH sexes, and ALL ages, WILL benefit from CUSTOM MADE GOLF CLUBS.

Have a look at the images below, to see how iron evolution has evolved over the years. The list may not be too accurate, but it sure is entertaining. I'll bet you regonize some of your clubs.
Iron evolution has been dramatic over the past ten years, compared to the first 100 years, and we in the bussiness think there may be a stall over the next few, with only some marketing gimics added. However, the golf industry will probably eventually come up with a new generation very shortly.


PLAYERS CLASSICS
| | | |
| --- | --- | --- |
| | | |
| Spalding TopFlite | Hogen Apex | Maxfli Australian |
CLASSICS
| | | |
| --- | --- | --- |
| | | |
| Wilson Tour Blade | Mizuno Tour Blade | Nike Vr Forged |
CONVENTIONAL
| | | |
| --- | --- | --- |
| | | |
| Mizuno mp 33 | Titleist 680 | Nike Sumo SQ |
Game improvement
| | | |
| --- | --- | --- |
| | | |
| Mizuno TZoid | Ping S58 | Callaway X22 |
SUPER GAME Improvement
| | | |
| --- | --- | --- |
| | | |
| Taylor Made 200 | Tommy Armour 845 | King Cobra SZ |
ULTRA GAME IMPROVEMENT
| | | |
| --- | --- | --- |
| | | |
| Callaway Big Bertha | Tommy Armour 855 | Ping Rapture |
Return to Irons


Return to Home Page
This site uses cookies. Some are required for the site to run, others to enhance your experience. And some are for ads personalization.