TRUE TEMPER SHAFTS….ALL YOU NEED
True Temper is the leader in golf shaft technology and has been the number one shaft on the PGA Tour for more than 70 years. With manufacturing facilities located throughout the U.S. and offices around the world, they continue to solidify their position as the dominant global market share leader in golf shafts.
There corporate headquarters is located in Memphis, TN., with the majority of their steel shafts produced in their steel manufacturing facility in Amory, Mississippi.
Building on their Dynamic Gold steel shaft, True Temper entered the graphite shaft business by acquiring Grafalloy in 1999 and in our opinion, really stepped it up by acquiring Royal Precision Company with its Rifle and Project X steel iron brands in 2006. With their introduction of the Project X graphite driver and hybrid shafts in 2010, there really isn't anywhere else to go to fit someone with shafts.

True Temper Performance Fitting Centers

Rick McKinney of Golfclub-technology.com, was certified in the first group of True Temper Performance Fitting Centers. They represent an elite network of certified professionals, who provide excellence in the golf retail and custom fitting industry.
Performance Fitting Centers represent the #1 Shaft Manufacturer, True Temper and offer custom, precision club fitting, just like the pros experience on tour. Performance Fitting Centers are trained and educated by world-renowned engineers and have previously been certified through True Temper's CRC, Gold Certified and Tour Concept programs. Performance Fitting Centers offer True Temper's full line of catalog products in addition to products exclusive to Performance Fitting Center dealers

TRUE TEMPER PRODUCTS
DYNAMIC GOLD

The #1 shaft in golf. This high-flex, tour weight shaft is designed for skilled players seeking a low, penetrating ball flight for optimum control and accuracy

DYNAMIC GOLD TOUR ISSUE

The Dynamic Gold Tour Issue shafts have a Tour Only weight tolerance of ± 0.5 grams within the set for custom precision fitting. Dynamic Gold Tour Issue shafts are the same shafts that win on tour each week, and now are available to the golfing public for the first time in True Temper history

DYNAMIC GOLD x7

Dynamic Gold X7 is the stiffest, lowest trajectory shaft in the Dynamic Gold family. This high-flex, tour weight shaft is designed for skilled players seeking a low, penetrating ball flight for optimum control and accuracy.

DYNAMIC GOLD DG SPINNER

The DG Spinner has been designed to increase ball spin during those all important wedge and approach shots. Powered by a specially engineered section just beneath the grip, DG Spinner can increase your ball's spin rate by as much as 700+ RPM

RIFLE BLANKS

Widely used by top Tour players throughout the world, Rifle steel shafts feature patented stepless design and are Frequency Matched. This consistent Tour winner is an excellent choice for all players. Rifle Blanks are one of the most versatile shafts in the True Temper product line, because they have flex profiles from 4.0 to 7.5. Clubfitters can easily fit amateurs and playing professionals.

PROJECT X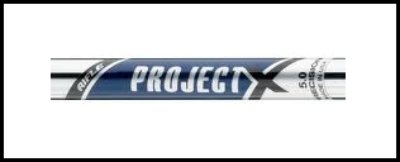 A proven winner on the PGA Tour, the patented RIFLE design features a discrete constant taper for each shaft in the set. Longer taper rates result in more energy transfer to the ball, getting the ball up faster and flattening out quicker for a penetrating trajectory and ball flight.

PROJECT X FLIGHTED

In addition to the playing characteristics that have made the Project X shaft a tour favorite, the Project X Flighted features an exaggerated change in kick point within each shaft throughout the set to optimize ball flight through the bag. Long irons provide a lower kick point for higher ball flight, easier launch and greater distance, while the short irons have a higher kick point for a lower trajectory, greater accuracy and control

PROJECT  X LZ
Project X LZ steel features proprietary Loading Zone Technology which produces maximum shaft load during the downswing for 7% greater energy transfer to the ball at impact for more distance.
Loading Zone Technology is achieved through variable wall technology in the shaft's butt and tip sections and a reduced stiffness in the midsection. Golfers can not only feel the technology, but see it as well in the rapid, tapered steps out of the grip through the midsection of Project X LZ.
Project X's unique "loading zone" technology produces maximum shaft load during the downswing for 7% greater energy transfer to the ball at impact for more distance.
The loading zone is specifically positioned by flex to maximize ball speed and spin properties. Project X engineers created a unique recipe of a very flexible mid section-the loading zone-with a robust butt and tip section to create a radically different shaft load profile during the downswing.
SPECIFICATIONS-Taper Tip
Flex Tip         Length          Weight (g)
5.0 .355"       40-36.5"        110
5.5 .355"                           115
6.0 .355"                           120
6.5 .355"                           125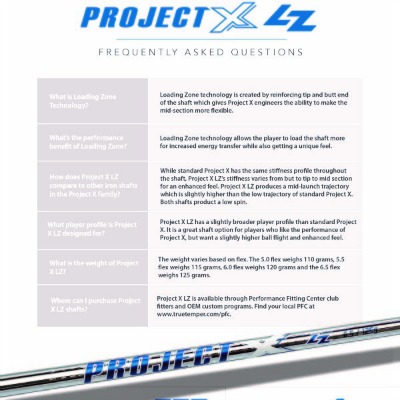 Project X Driver Shafts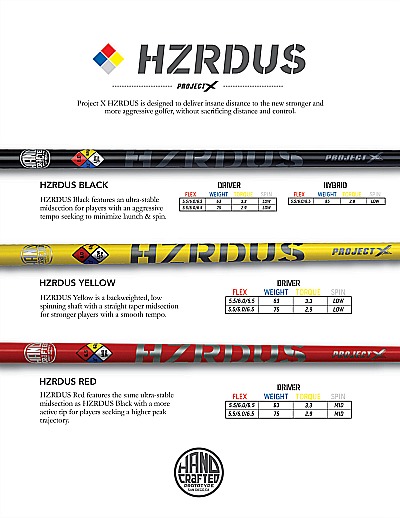 The name that revolutionized steel shafts and won major tournaments around the world just got better. Introducing the new Project X Hzrdus Hand Crafted driver shaft, the Next Generation in sophisticated Project X engineering.
The new Project X Hzrdus line of Hand Crafted, has taken the tour by storm, and is exclusively available thru True Temper Performance Centers only.The driver shaft's firm tip design yields a penetrating launch and low spin while its low torque and reinforced cross section provide the most stable shaft performance on tour.


Grafalloy is the number one ultralite shaft on tour and one of the most successful shaft brands in the world. Each week, Grafalloy shafts can be found in play on the PGA, Nationwide and European Tours.Eight of the Top 50 Players play Grafalloy shafts in their clubs according to the Official World Golf Rankings

This site uses cookies. Some are required for the site to run, others to enhance your experience. And some are for ads personalization.