WHAT IS CLUB BOOSTER EWHEELS?
EWHEELS is the world's first ever lithium battery powered wheels that converts a Rovic RV1S Swivel by ClicGear into a fully remote cart. Have your bag accompany you rather than hinder your enjoyment of the game. Many say walking is better than riding, but there's no need to carry your bag, or even push it.  With ewheels, all your golf equipment will always in the right place at the right time.  When you're traversing up and down a hilly course, you don't want to be pushing and pulling your gear from hole to hole. The constant stops and starts can be draining and hard on your neck and shoulders, all of which negatively impacts your performance.  Get around the course quicker and easier with less effort.  The ewheels carts are perfect for hilly golf courses and on those with downhill inclines.

---
---
GALLERY OF EWHEELS V2
EWHEELS V2


Cart Colors Available: Charcoal/Black
Cart Accessories Available: Seats, Cooler Bag, Travel Cover, GPS Holder, Steering Knob, Cigar Holder, and many more.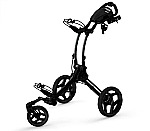 Charcoal/Black
We have been selling these ewheels with Clicgear's Rovic RV1S front swivel wheel since they were brought to North America and they are quite frankly the next generation of remote controlled carts to dominate the market. They run very quiet, for up to 27 holes, charge in less than two hours, have removal batteries, that allow you to only carry your battery to charge, don't have to be charged all the time, even run backwards with the remote, have various speed and distance controls, chargeable remote, optional travel bag, and seat, all the accessories you need for your cart, and are priced right. See below for our pricing.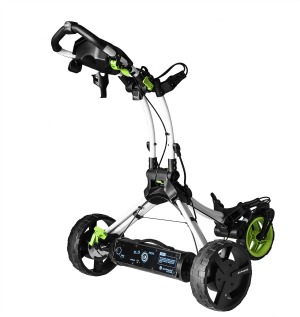 Alphart is the manufacturer of ewheels. For a quick video from Alphart:
Go to: https://www.youtube.com/watch?time_continue=3&v=azJazdAGsNA&feature=emb_logo
OUR EWHEELS PRICING
ewheels V2 complete with CLICGEAR ROVIC RV1S SWIVEL CART:  (includes wheelie bars)        
$ 1499.00 CDN. + cdn. taxes 
All prices are f.o.b. Woodstock, Ontario, Canada.
---
This site uses cookies. Some are required for the site to run, others to enhance your experience. And some are for ads personalization.