THE HISTORY OF GOLF DRIVERS
FOR SOME NEAT VIDEOS ON HOW TODAY'S GRAPHITE SHAFTS ARE MADE:      GO TO OUR RECOMMENDED DRIVER SHAFTS
Where drivers were once small-headed clubs made from wood, they are now 460cc monsters made from some of the most advanced metals in the world. Modern drivers are capable of sending the ball more than 300 yards in the air – a distance that was considered impossible in the past. Of course, modern drivers are rather expensive due to the materials and engineering required to bring them to life, but most golfers are glad to pay the price if it means they can outdrive their playing partners on a regular basis.
The development of this 'new age' of golf heads has even had an effect on golf courses around the world.  Many old courses have had to be lengthened or they would become obsolete. In terms of the pros, it is now rare to see a course that is under 7,000 yards in length. Golf is a bigger, more powerful game than ever before, and you have the driver to thank for that development.
For most golfers, this club is their favorite in the bag. Rarely will you find a golfer who would prefer to hit a fairway wood or long iron off the tee. If there is one thing that golfers have in common across the board, it is a passion for teeing it high and letting it go.
It might be helpful to at least have a basic understanding of the development of the driver. They have only come to look like the titanium/metal monstrosities that they are within the last 20 years.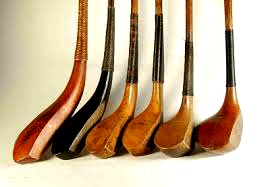 Most of the early golf drivers had small heads made from persimmon wood. Why did they use such small heads? The wood would start to make the club too heavy if they made the heads much bigger. That meant that golfers were left with a small sweet spot. If you missed the ball out toward the toe or in toward the heel, you would lose a lot of distance.
THE START OF IT ALL- METAL to TITANIUM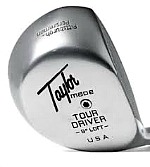 The metal revolution started to take shape in 1979 when TaylorMade introduced the first steel head onto the market.
Taylormade driver nicknamed it the "Pittsburgh Persimmon" as TaylorMade used steel rather than persimmon. and it developed into one of their strongest lines throughout the 1980s.
There were advantages to playing golf with metal. The first, was the weight savings that were achieved. Swinging a hollow metal-headed head meant the overall weight of the club could be lower, which would instantly increase swing speed.
Secondly. this allowed the heads to be made bigger because of the weight savings. Therefore, golfers had clubs that were larger, (meaning a bigger sweet spot- a false statement) and lighter all at the same time. These were advancements that persimmon models couldn't keep up with, and the metal models soon came to completely dominate the game.
Metal drivers continued to grow and grow, enabling golfers to hit the ball harder and farther than ever before. Seeing no end in sight to the development of longer-hitting clubs, the USGA stepped in and established limits to these heads. The USGA set limits of 460cc's for the volume of the club head, and 48'' for the overall length of the club.
As long as the current rules remain in place, we will likely see these clubs remain generally the same for years to come. Of course, that doesn't stop golf club companies from trying to come up with the latest and greatest models that will win over the market.
HERE COMES TITANIUM DRIVERS

Mizuno introduced the world's first titanium driver, the Ti-110, in 1990. Powerful and expensive, they were marketed almost exclusively in Japan. However, like most other early titanium drivers, the heads of these Japanese drivers were actually cast in the U.S. by precision aerospace foundries such as Titech, Selmet, Wyman Gordon, and Howmet. 
In 1992, MacGregor unveiled the first American-designed titanium driver, the T-920. But Callaway's hugely popular stainless-steel Big Bertha still ruled the fairways. So, in its first year, MacGregor's groundbreaking T-920 only sold a modest 2,500 units. 

By the time Callaway launched its first titanium driver, the Great Big Bertha, in 1995, the U.S. market was ready—purchasing over 250,000 drivers in just 12 months. Major makers quickly followed suit and ushered in an era of titanium drivers in America dominated by big-name U.S. golf brands. 
In 1995, Grand Golf's GRAND TAG titanium driver also made its debut. Although designed exclusively for the Japanese and Asian markets, it was engineered and manufactured in the U.S. using state-of-the-art aerospace technology and precision titanium foundries. Weighing just 255 grams, it was quickly heralded as "lightest, best-balanced driver in the world"—a full 15 grams lighter than its closest Japanese competitor and an amazing 45 grams lighter than the lightest U.S. titanium driver of the day.
---
AND THEN THE PARTY STARTED
Though the first titanium head was released in 1990, it wasn't until 1996--when Callaway and TaylorMade started to develop their answers, and their new clubs would take off in popularity. Allowing for a larger sweet spot and a faster swing speed due to its light-weight material, titanium heads have completely replaced everything else ever invented.
Here is a quick list of some of the clubs introduced by the main O.E.M.s between 2010 and 2013. 
Callaway
2013: Callaway RAZR Fit Xtreme 2013: Callaway X Hot
2012: Callaway RAZR Fit Xtreme 2012: Callaway RAZR Fit  2012: Callaway RAZR X Black
2011: Callaway RAZR Hawk 2011: Callaway RAZR Hawk Tour 2011: Callaway Diablo Octane
2010: Callaway Diablo Edge Tour 2010: Callaway FT-iZ
2010: Callaway Diablo Edge
 Titleist
2013: Titleist 913D2 2013: Titleist 913D3 2011: Titleist 910D2
2011: Titleist 910D3
2010: Titleist 909D2 2010: Titleist 909D3 2010: Titleist DComp
Ping
2013: Ping Anser  2013: Ping G25
Cobra
2013: Cobra AMP Cell Pro 2013: Cobra AMP Cell
2013: Cobra AMP Cell Offset

2012: Cobra AMP Cell 2012: Cobra AMP Cell Pro
2012: Cobra AMP Cell Offset 2012: Cobra AMP
2012: Cobra AMP Offset
2011: G15 Draw 2011: Cobra S3 2011: Cobra S3 Max Offset
2010: Cobra S2 2010: Cobra S2 Offset 2010: Cobra ZL
 TaylorMade
2013: TaylorMade RocketBallz Stage 2
2012: Taylormade RocketBallz Tour 2012: TaylorMade RocketBallz 2012: TaylorMade R11S
2011: TaylorMade R11 2011: TaylorMade R11 TP
2011: TaylorMade Burner SuperFast 2.0
2010: TaylorMade R9 2010: TaylorMade R9 TP Driver
2010: TaylorMade R9 SuperTri  2010: Taylormade R9 SuperTri TP 2010: TaylorMade R9 460 2010: TaylorMade R9 460 TP
2010: TaylorMade Burner SuperFast
AND NOW THE CARBON FACE ERA BEGINS
With Taylormade's introduction of the carbon face driver head, a new chapter has begun. We will be following this new technology as it progresses. Will it replace titanium? Stay tuned.
---
---
This site uses cookies. Some are required for the site to run, others to enhance your experience. And some are for ads personalization.